By: Rich Bergeron
From Left to Right: Teresa Fertitta, Lorenzo Fertitta, Anne Stella White and Dana White
"Aren't you afraid you're gonna get whacked?"
This is a question I used to get asked all the time. Most people who found out what I was doing with this site thought that prospect was a natural occupational hazard of covering the Fertittas and their involvement in intentionally bankrupting Xyience.
The reality was I never got a single threatening phone call and never felt like there was a real target on my back. However, I did always take precautions to make sure the Fertittas would never find out where I lived when I was stuck in Las Vegas for two years fighting their attempts to profit off their destruction of Xyience. This involved some creative evasive measures. Exiting the courthouse and getting home without a tail each time I appeared against them was an adventure in itself.
Why was I so confident nothing horrible would happen to me? The regulated nature of the casino industry requires near spotless records to be maintained by all license applicants and license holders. The Fertittas would not risk injuring me or killing me and having it even appear to be linked to them. Their empire would be at stake if they gave my reports credence by making me disappear. If they maintained any obvious illicit relationships with anyone connected to organized crime, they could lose their casino licenses. So, even the most inconsequential ties to "the Mob" would have to be kept very close to their vests and top secret to avoid the appearance of impropriety.
So, what does any of this have to do with Dana White and his wife getting in a slap fighting spat in Mexico while drunk and emotional? Bear with me. It's a fairly long story that starts with a yearbook photo I acquired of Anne Stella from when she was at Bishop Gorman High School in Las Vegas:
The photo above links to my Pinterest account where I also have pictures of Dana White and Lorenzo Fertitta from their common years at Bishop Gorman. All these years after I connected with a Bishop Gorman classmate who sent me these pictures, the story has finally come full circle.
The Bishop Gorman nexus perhaps explains everything about the way the UFC operates as a business today. It is so much more relevant now than it was back then, because I have made a new discovery from a 7-year-old interview I conducted with June White, Dana White's mother (Starting at the 1:11 mark). June and I covered a very wide range of topics, but a recent review of that audio (start at the 1 hour and 50 minute mark) uncovered a crucial detail I neglected to follow up on until this past week. It relates directly to who Anne Stella White really is and reveals a perfectly good reason why all the alleged affairs Dana White's been implicated in never resulted in a divorce. It's not just because they've known each other since they were 12.
June White (L) and her son Dana White (R)
The Real Anne Stella White Story and Why We Don't Know It Already
The news media scrambling for dirt on Anne keeps harping on racy details of her "joke" of a marriage to Dana that June White reported when promoting her tell all book on her son. June also claimed Anne gave Dana a severe black eye on their honeymoon. These writers relaying Dana's mother's commentary have some of the "family" drama pegged, but they have absolutely no clue about the most secret back story Anne Stella has. If even the sports media had any idea of what I know about Anne, would they even try to cover it? It appears ESPN reporters have been effectively muzzled already on "the slap heard around the world:"
I specifically discussed the concept of "UFC nut-huggers" with Dana White's mother. If you're not familiar with the term, it refers to people who will never utter a bad word about the premiere MMA organization. On top of that, some of them are actually paid to post all kinds of complimentary stuff on social media about Dana, UFC business, UFC fighters and UFC events. I'm not talking about just publicists, either. Some paid posters are even encouraged to verbally squabble with doubters and detractors of the organization. I saw it firsthand while posting links to content here at Sherdog and on other mixed martial arts forums.
June White successfully sued over one particular woman linked to her son who trolled her viciously online after June's book went public
. June even informed me that my book on representing yourself in court helped her out in some key areas.
So it did not surprise me one bit when Dana White's most recent scandal had more people defending him than demanding his resignation. He even had loyal UFC fighters standing up for their boss.
"She hit him first" was the most common refrain. She threatened the reign of their king, so the spin had to be that this was all her fault. It's as if these fighters, fans and devoted UFC media only watched the first part of the video where Anne slapped Dana and Dana slapped her back once. I don't think most of these "nut-huggers" bothered to acknowledge the second and third slap from Dana. It appeared something was thrown at Dana's head to ultimately stop his continued assault after that. Much of the final moments were blurred by darkness and the entire violent scene blending into the crowd.
You know what else is in the dark? Anne Stella's background. Here are a couple of articles that claim to tell you everything you might want to know about the wife of "The Baldfather:"
It appears that there are a lot of unknowns about Anne and her family. She's kept her past top secret and avoids the public eye like the plague. June White knew the real reason why she had to do that. She told me 7 years ago that Dana's father-in-law was connected to the Chicago mob. For some reason I never followed up on that tip until a week ago when the Mexican slap-off became a viral story.
Married to the Mob
This passage from
a lengthy article
explains the Stardust skim from an insider perspective:
"Johnny Rosselli later named other Stardust "supervisors" brought in for good measure: "[Sam Giancana] sent Al Sachs and Bobby Stella to help [Drew]. Dalitz's got Yale Cohen to watch his end. But Sam's got a sleeper in there, Phil Ponti, a made guy from Chicago. A real sharp operator."
When the Stardust finally opened for business on July 2, 1958, it proved well worth the effort. After the grand opening, attended by guests of honor then senator and future president Lyndon Baines Johnson and his trusty sidekick Bobby Baker, the money began arriving in Chicago almost faster than it could be counted. "They're skimming the shit out of that joint," Rosselli later told Fratianno. "You have no idea how much cash goes through that counting room every day. You, your family, your uncles and cousins, all your relatives could live the rest of their lives in luxury with just what they pull out of there in a month. Jimmy, I've never seen so much money." Coming from a man who had lived through the phenomenal profits of the bootlegging era, this speaks volumes about the lure of Las Vegas.
The last part of that snippet above is ironic considering the fact that the Fertitta brothers lived their entire lives in luxury thanks to their father's casino industry legacy. It's certain that Frank Fertitta Junior did not just cross paths a few times over the years with Bobby Stella. Fertitta and Stella were intimately involved in the casino skimming efforts popularized in the movie "Casino" starring Robert Deniro and Joe Pesci. Fertitta's Wikipedia page explains:
"...
he [Fertitta] worked as a dealer, pit boss, baccarat manager and general manager at properties including the
Stardust
; Tropicana,
Circus Circus
,
Sahara
and the
Fremont
in downtown Las Vegas."
Again, an obituary tells the hidden story behind the very close relationship between the Stella and Fertitta families. The "Memories and Condolences" section of Frank Junior's "Legacy" page contains the following entry left by Robert and Roberta Stella:
"Our thoughts and prayers are with Mrs. Fertitta and her devoted family always. You are all very special to us."
Mafia Mentality Permeates Dana White's UFC Management Style
Restrictive contracts, rewarding extreme employee loyalty and routine intimidation tactics utilized by Dana White over the years in his role as UFC President now make so much more sense. They call him "the boss" for a reason. You have to "put on a show" to make it in the UFC long term. In other words, as a mob boss would say, "You've gotta be a good earner." You have to be the kind of fighter that puts eyeballs on the brand and asses in the seats if you want to get Dana's admiration and a good return on your investment in training.
Organized crime has always been hovering in the background for the entirety of White's reign over what is widely considered the most powerful mixed martial arts league on the planet. It makes the James Krause betting scandal seem tame now in comparison. I interviewed Krause in 2016 for a now-defunct podcast. He was one of the few outspoken fighters involved in the UFC, but only because he always knew he had to diversify his income.
Another fighter who graced the Octagon more than a few times joined our podcast back in 2010. It was just before what turned out to be his last fight in the UFC, which he lost by knockout to Brad Tavares. "The New York Badass" Phil Baroni was involved in an even more horrific domestic violence incident in Mexico recently. Baroni allegedly murdered his girlfriend after she confessed to cheating on him with another man.
Baroni, known for his abrasive attitude and balls to the wall fighting style, was on his absolute best behavior during our chat. I asked him one last question about Dana White's rule over the UFC when we talked back then." It's his money, it's his show and he's the boss," Baroni said.
Listen to his answers to my last two questions for Baroni by following the link below.
Phil Baroni Commentary on Dana White and Fighting in the UFC 01/08 by Fight News Unlimited | Sports (blogtalkradio.com)
We also can't neglect to mention the double standard involved in the "slap heard around the world." The "do as I say not as I do" mantra fits the scenario perfectly. White has thrown people out of the UFC for getting wrapped up in incidents of domestic violence. Yet, his own example of the same behavior is treated much differently. There has been no formal punishment at all despite White admitting publicly he has no excuse for his actions.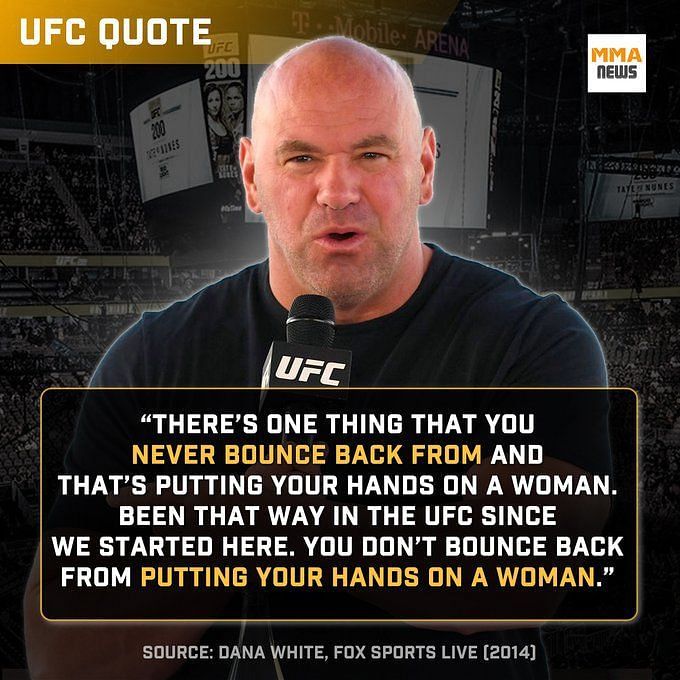 There's no doubt in my mind that this debacle is something Dana White will effortlessly bounce back from. The organizational underboss has all the job security a guy could want due to his popularity and pull. However, things might have been drastically different if his father-in-law was still alive when Dana slapped Bobby Stella's beloved daughter down in a drunken rage. Who knows what Anne's dear old dad would have done in this situation if he was still walking among us. I imagine the penance Dana would have to pay in that case would have been much harsher. Instead, look for this news story to drop off the radar and fade into oblivion while Dana continues with "business as usual."