By: Rich Bergeron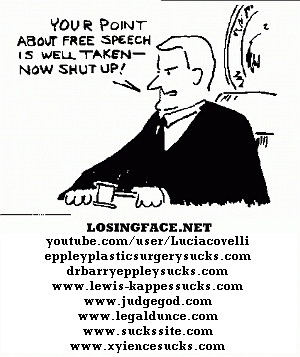 It is so hard to even imagine the day when the Xyience sage will really be over for me. Back when all this began I had a feeling it might be the kind of story that could define my career someday. It's been nearly two-and-a-half years since the lawsuit paperwork reached my inbox. The court battles have been contentious and frustrating for the most part, but certain points were strangely fun.
I enjoyed more than anything the opportunity to call out the opposing lawyers along the way who always tried to back me into a corner with technicalities. None of them bothered to gather any substance or concrete evidence. They attacked me with lies upon lies, a foundation of falsehoods for a case that never had merit on their part. They defended their own subversive and manipulative behavior to hide the truth and decried my methods of revealing it.
For me, rather than reflecting negatively on all the days I've had to spend crafting motions and doing legal research or trying to calculate the total wasted hours, I look at my accomplishments by the numbers:
I've managed to keep this case moving through the system through 3 different judges before Bankruptcy Judge Mike Nakagawa took the matter over.
Judge Timothy Williams, the gentleman endorsed by Station Casinos for his campaign for the bench, was the first obstacle. Judge Williams signed the existing, un-enforced bogus injunction secured by the first lawyer on the case: Jamie Cogburn. By the time I appeared to argue against the application of a default judgment, Williams had warmed up to me a bit for at least trying to be a lawyer with all my might.
Click Here to read the throwback report on that first success before Williams that I argued a bit too hard for (recording included) but got anyway.
Williams eventually stepped down due to some coincidental connection to one of the law firms involved once Jamie Cogburn quit the case with an outstanding bill. The case spent a brief period under the guidance of two other Clark County, Nevada judges before being transferred to bankruptcy court and Nakagawa.
Four law firms couldn't shut me down through the worst of conditions with all the odds against me.
Cogburn's took a crack at the case and failed first. He famously offered to settle with me for "a box of sodas" and "a thousand dollars" when he was the one who first filed the case against me. It was yet another small victory knowing Xyience left him a huge unpaid balance.
Then Pamela Lawson of Hunterton and Associates took on Xyience as a client without even knowing how to pronounce the company's name.
She was easy to make fun of, and not just for me.
Fennemore Craig's legal team of Laurel Davis and Jon Pearson never really lifted a finger to further their case, playing the defensive role through their whole involvement. Most of their hard work was done by the Fertitta Enterprises team fighting my counterclaim as a co-defendant of Xyience's. The Fertittas had Gordon and Silver's Greg Garman and Matthew Zirzow doing their dirty work, and these attorneys took some of my worst verbal barbs in writing and in spoken word at the bankruptcy hearings. I called Garman a clown twisting balloon animals for the court and hoping to amuse the judge at one hearing. I called his clients at Fertitta Enterprises thugs in business suits and corporate crooks.
The fifth firm is the liquidation trustee, and there no longer appears to be a need to fight these first legal minds outside of Nevada to handle the estate's litigation streams. These folks are finally on my side and ready to put this long story in the proper perspective by concentrating all our combined legal efforts on the main culprits. They are already pursuing some of the same bad apples I'm after.
I've handled these legal matters in both local and federal court systems, all the while living thousands of miles from the venue. I've been flown to New York by my adversaries and to Las Vegas by some Xyience shareholders. I've been offered as much as $5,000 to walk away. I've spent about that much through the course of the litigation on associated costs, but never for any paid legal advice.
I even wound up taking on a
fifth judge (judgegod.com)
and a
sixth law firm (www.lewis-kappessucks.com)
in Indianapolis due to an unrelated book project involving a plastic surgeon's most outspoken online critic. I started
www.suckssite.com
as a resource to all those Americans out there in need of an effective outlet to gripe about the things that irk them the most.
I'm hoping the days ahead might afford me the opportunity to stop being a lawyer and start being a writer again. More than the prospect of spending any settlement money on my formal law school training, what really intrigues me is using the funds to travel to appropriate research points for an all-inclusive book project.
The Ultimate Judgment will eventually come down against the Fertitta Enterprises crew and all the other individuals and entities involved in bankrupting and using Xyience to further their own needs. I'll be involved with the trustee's office every step of the way, but in a limited role so I'll have time to write the story. A few more reports here will take us to the end of this whole saga's Online life. From there the Xyience tale will grow to new heights as the only written expose to fully reveal the Fertittas for the true scumbags they are.
Stay tuned in the coming days as a new report is coming soon about some other "Usual Suspects" who moved onto other scams after bilking Xyience. I'll explore one of the trustee's other complaints and the defendants in that claim.